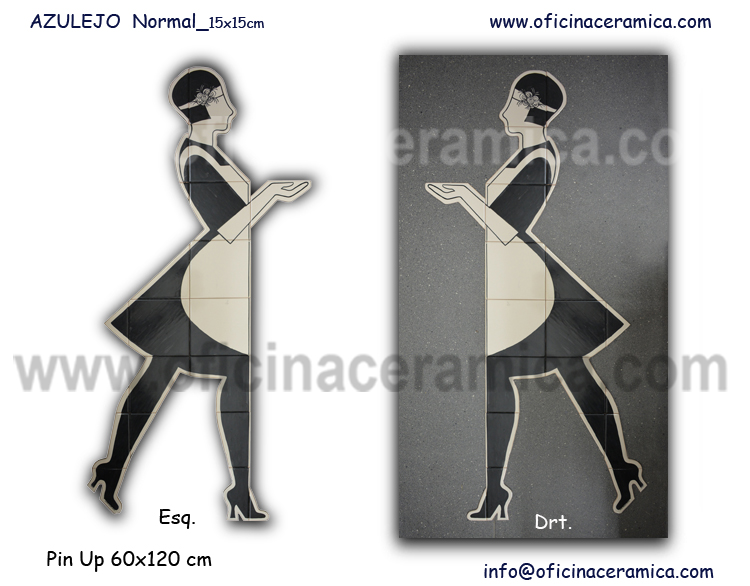 Pin Up – Painel de azulejos pintado a mão com Pin Up, virada para a esquerda e direita. Azulejos pintados manualmente recortado com pintura a preto e branco. As mãos em posição de levar uma prateleira de vidro. objecto utilitário e decorativo para Hall de entrada, bares, restaurantes, etc… Azulejo Industrial com 15x15cm e 5mm de espessura.
António Cruz – Oficina Cerâmica de Pombal
Pin Up: panel de azulejos pintado a mano con Pin Up, mirando hacia la izquierda y hacia la derecha. Azulejos pintados manualmente recortados con pintura en blanco y negro. Manos en posición para llevar un estante de vidrio. Objeto utilitario y decorativo para recibidores, bares, restaurantes, etc … Azulejo Industrial de 15x15cm y 5mm de espesor.
António Jorge Cruz – Taller de cerámica en Pombal
Pin Up – Panneau de carreaux peint à la main avec Pin Up, orienté vers la gauche et la droite. Carreaux peints manuellement garnis de peinture noire et blanche. Mains en position pour porter une étagère en verre. objet utilitaire et décoratif pour halls d'entrée, bars, restaurants, etc… Carrelage Industriel 15x15cm et 5mm d'épaisseur.
António Jorge Cruz – Atelier de céramique à Pombal
Pin Up – Hand painted tile panel with Pin Up, facing left and right. Tiles painted manually trimmed with black and white paint. Hands in position to carry a glass shelf. utilitarian and decorative object for entrance halls, bars, restaurants, etc… Industrial Tile 15x15cm and 5mm thick.
António Jorge Cruz – Ceramics Workshop in Pombal